Hunger Action Month is here again! At JFS, we are working on food access issues, hunger, and food insecurity all year long. Hunger Action Month is a great time to talk about it.
Missed the 2022 Hunger Action Month blog post? Read about

Food Security 101.
Today let's find out: when it comes to JFS food security programs, what's in a name?
Across Metro Vancouver, the Jewish community takes pride in donating to the Jewish Food Bank. Every day, people call and request that their donation go to the Food Bank, without realizing that officially, the Jewish Food Bank doesn't exist. It's been replaced by something better.
Several years ago, JFS leadership decided to move towards a Food Hub model. As part of that change, JFS opened The Kitchen at 54 3rd Ave E to serve as a one-stop shop for all its food programming as well as a central location that provides integrated services to support individuals and families through the range of barriers they face, as well as a place to facilitate community-building and connection.
The Food Hub model works to reduce the stigma associated with receiving free food by holding fast to the concept of "dignified access". Every person arriving at The Kitchen can expect to be treated with respect. Confidentiality is honoured and no one must "prove" they deserve help by disclosing their financial information. This model also upholds the belief that all people have the right to consistent access to high-quality, fresh food that meets their individual health and cultural needs. For example, Grocery Program clients have the option to tailor what is in their bi-weekly grocery bag to suit their unique needs.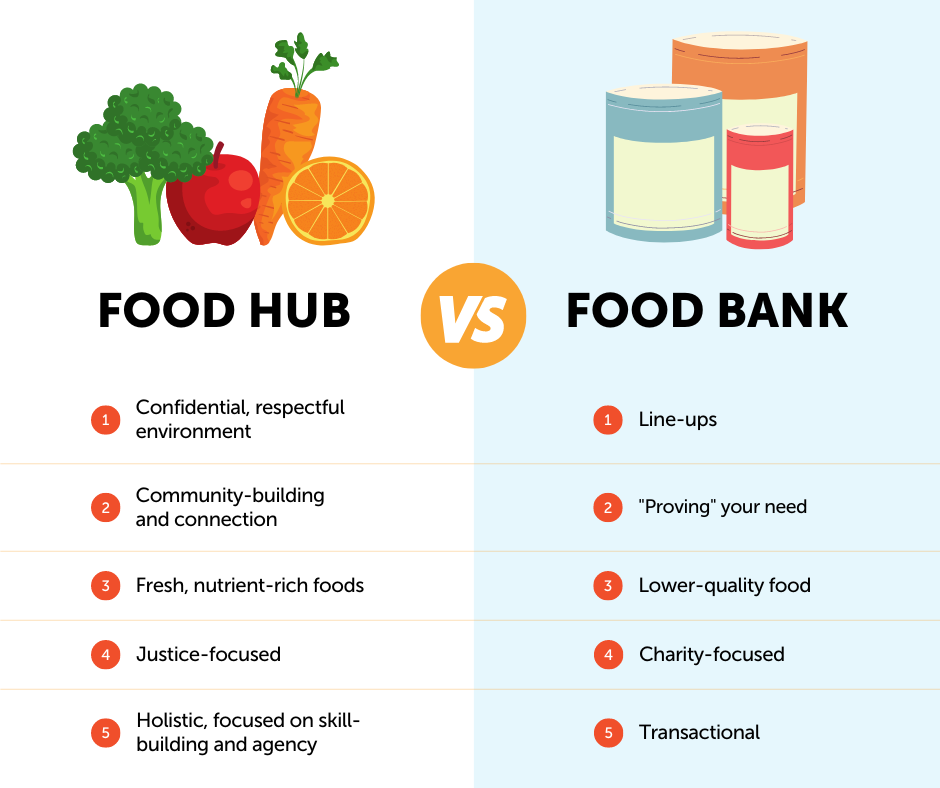 The JFS Food Security department runs a huge variety of programs and services. As a Community Food Centres Canada partner, we're dedicated to our Good Food Policy:
Take action from the individual to the systemic level.
Invest in the power of good food.
Create an environment of respect and community leadership.
Meet people where they're at.
Aim high for our organization and our community.
By changing the way, we think and talk about hunger and poverty and by restoring dignity and humanity to those who receive free food, we start to get to the root cause of and solutions to hunger. Food insecurity isn't a food problem. It's an income problem.
Across Canada, people are facing an affordability crisis. Heavy inflation and rising costs of living combined with stagnant wages and government supports are putting essential human needs like nutritious food and safe housing out of reach for far too many. A 2022 poll showed that 25% of adults are eating less than they believe they should, and 1 in 5 Canadians said they are likely to get help from a community food resource. With poverty and hunger come serious physical and mental health problems, which further restricts income.
It falls to citizens to respond to this public health crisis--people who are struggling to meet their basic needs can't afford to wait.
You can take action to respond to the problem of food insecurity and hunger in Canada.
Support emergency programs. Skyrocketing cost of living combined with stagnating wages and government supports mean more people than ever are seeking our services.
Donate to Project Isaiah and other JFS campaigns so that we can continue our service model of providing holistic and client-focused services.
2. Advocate for necessary government policies.
Sign the petition for an immediate implementation of the Canada Disabilities Benefit.
Learn more about federal, provincial, and local policies that end the housing crisis and ensure a living wage and minimum income floor.
So, what's in a name? Jewish Food Bank, JFS Food Hub, JFS Food Security Programs, or The Kitchen—requesting a donation to any of those supports the same great place and same amazing programs. But by letting go of the label "Food Bank", we are making a conscious choice to work towards a better future for everyone in our community.