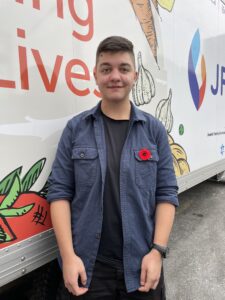 As a UBC undergrad student originally from Kamloops, Malcolm wanted to give back to his new community and make connections outside of school. So he responded to an online volunteer ad for The Kitchen, not realizing how expansive JFS' network is.
"I was surprised by how big the network of volunteers is. There are grocery stores that are involved, and there are all sorts of other partnerships that are all connected. It's a much bigger network than I expected, and it's really impressive."
Malcolm has been volunteering at The Kitchen since July 2022, and he already sees how important the Food Security program is for individuals, families and seniors in the community. The links that JFS and The Kitchen have established between grocery stores, farms, bakeries and other resources are an invaluable part of that.
"It's nice to feel the impact that places like this have on the community. It's a really nice network of committed people who care."
Once a week, Malcom helps out in the warehouse and assists with deliveries. Driving around the Lower Mainland delivering meals and groceries has also helped Malcolm feel comfortable in a new city. "I've never lived anywhere as big as Vancouver, and it's just nice to get a feel for the community. Now I know people here and out in Richmond and Surrey. It feels good to have an anchor to a part of the community that's been here for a long time." To others thinking about volunteering at The Kitchen, he says, "It's an outstanding, rewarding experience. And if you want to put down roots in the community, it's a good way to do that."