Our JFS office move is underway. We will be moving to two new office spaces over the next two months to accommodate our growing food, counselling and care management services.
Our main agency and ALL staff phone numbers and email addresses will remain the same.
Tel: 604-257-5151
Fax: 604-257-5148
Email: info@jfsvancouver.ca
NEW HEAD OFFICE & JFS MAILING ADDRESS
320-2285 Clark Drive
Vancouver, BC V5N 3G9
Open: May 2021 
Departments operating from our HEAD OFFICE will be Better At Home, Home Support, Counselling and Mental Health Outreach, Holocaust Survivors, Marketing, Development and Administrative Services. This location will be our new mailing address.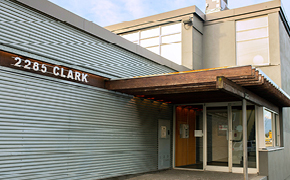 THE KITCHEN - JFS FOOD HUB LOCATION
54 E 3rd Ave
Vancouver, BC V5T 1C3
Open: April 19, 2021
Programs operating from The Kitchen will include our Food Security Program (formerly Jewish Food Bank), Meal Program and Care Management Services.