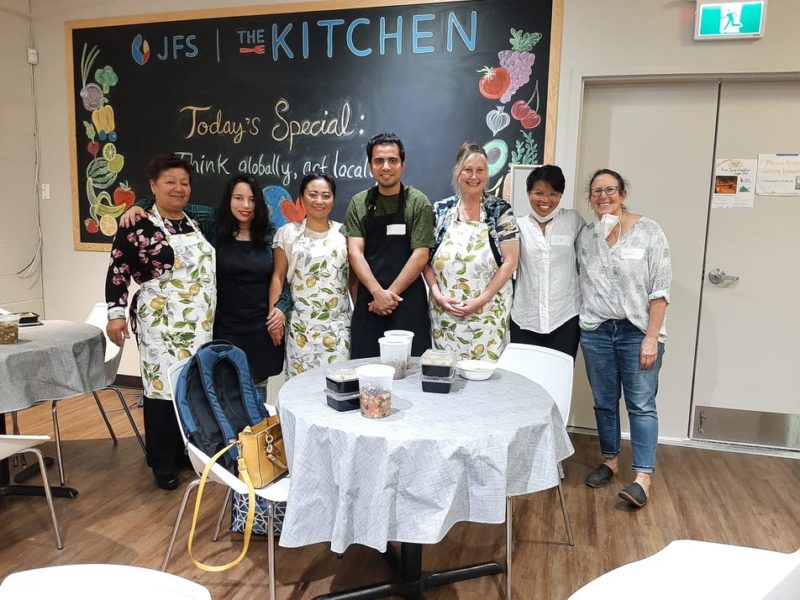 The Food Security team proudly launched the Community Kitchen program from our very own Kitchen. Naomi Kestenbaum-Evans taught guests how to cook delicious and affordable meals that they took home in time to celebrate the High Holy Days. But, what made this gathering extra special was the feeling of togetherness and the forging of new connections and friends made possible through food.
On October 12, JFS also hosted the first Supper Club in partnership with the Jewish Museum & Archives of BC. This series of dinners are curated to share food and hear stories that reflect the diversity of the Jewish community in BC. This Supper Club, hosted by Judith Blumenkrans, featured a fusion Syrian-Argentinian menu that engaged guests in the elements of culturally-rich dishes.
"I hope this is the beginning of many more shared meals – may we continue to nourish our body and souls together."
We are excited to witness the different ways food nourishes the body, mind and soul and we look forward to continuing to build bridges through food and storytelling with these gatherings.
For more information on the Community Kitchens or the Supper Club, please contact Emi Do or by calling 604-257-5151.
"Thank you for sharing your soul with us. Shabbat Shalom," ~Donna
"Hi Judith, I just wanted to take a moment to share my thoughts on the beautiful Syrian-Argentinian menu and event.  The night ran so smoothly, the food was delicious and I just loved listening to your experiences connected to the food that was being served. Your stories really added to the impact of the evening and helped us have a better understanding about different traditions and why certain foods are used in the Syrian, Argentinian and Italian holidays. Thanks again for sharing your stories. I hope this is the beginning of many more shared meals." ~Supper Club guest
"A recipe has no soul. You, as the cook, bring soul to the recipe." ~Kitchen guest attendee
Stay in touch with JFS through email news and updates.
"*" indicates required fields